ILLUSTRATED BY OWEN GIENI * WRITTEN & CREATED BY OWEN GIENI & CHRIS CROSBY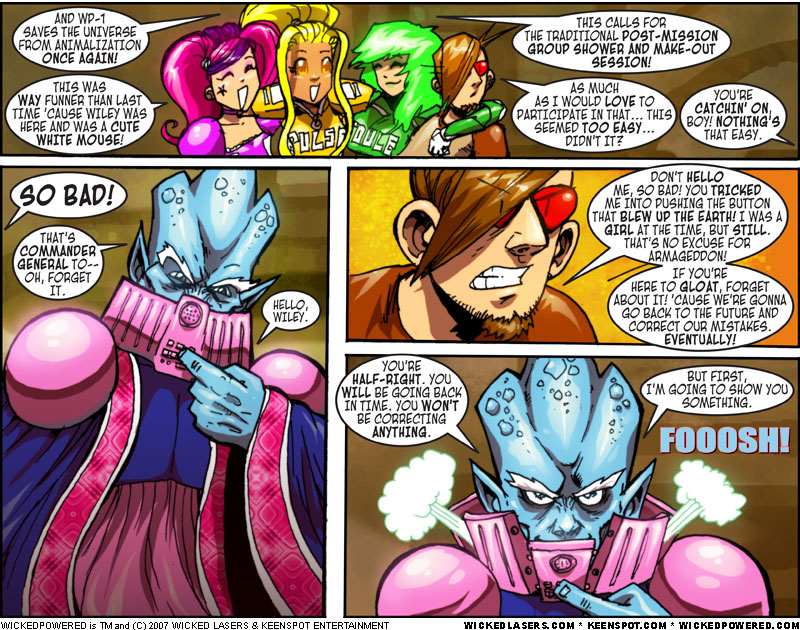 Wednesday | April 30, 2008




HOW LONG WILL THIS "TIME-LOOP" GO ON?!
Hi there, honorary WP-1 teammates! This is Chris Crosby, the co-writer and co-creator of WICKEDPOWERED. In response to your thousands of E-Mails, letters, and phone calls, I'm posting here to set the record straight on a mystery that has been haunting our readers for a couple of weeks now.
Yes, your theories are correct (mostly). This time-loop thing is just our "clever" way of posting reruns. Apologies if it seemed like a nasty trick to get you all to keep reading, that was not our intention. We're just kinda dumb.
The facts are, this is a sponsor-based comic (thanks to our friends at the real Wicked Lasers), and financial realities had to come into play eventually. We had a great run for a "sponsored entertainment product", eight happy months and 107 wicked pages of lasers and monsters and pretty girls in brightly-covered clothing. And Owen and I would love to continue creating new WP-1 adventures for your reading enjoyment, and I believe we will again someday. Not yet, though, because it costs time and money to make them.
Go fondle some clouds and kickbox the sun for us!
Your Pal,
Chris Crosby

WICKEDPOWERED is TM and (C) 2006-2010 by Wicked Lasers and Keenspot Entertainment. All rights reserved.
RELATED SITES TO ENJOY: Sore Thumbs * God Mode * Last Blood * Marry Me * Superosity * +EV * Crow Scare * The First Daughter * Chris Crosby * Owen Gieni * Bobby Crosby